table base
Created by furniture designer of the year 2021 Yuki Abe, the elegant HIILI (the word 'hiili' means 'coal' in Finnish) finds its place in any kind of space. The graceful HIILI is visually an example of beautiful and light design. It is available with wheels and height-adjustable mechanics.
The multi-functional product is easily transformed from a low coffee table to a high-top table for your company's elegant soiree. HIILI table bases can be manufacture suitable for both indoor and outdoor use.
The powerful no-frills form of the HIILI X base stands out on the floor. By combining different colours with the legs you can make your space vibrant and cheerful. The HIILI series is also available with an ecological and durable ECOSHINE finish, and without burdening the environment. The shining metal surface is suitable for interior spaces: an eye-catching solution to the restaurant or office environment.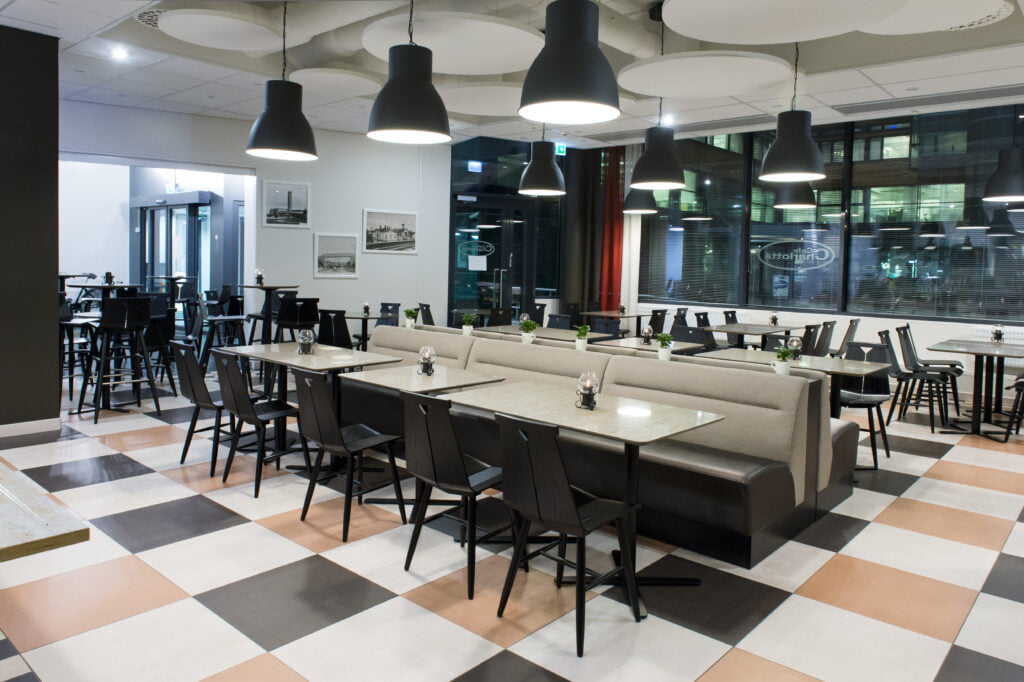 Cafe Charlotta Lahti
DIMENSIONS
The size of the base: 45, 57, 65, 75 tai 85 cm
Height: height adjustment range 70 – 110 cm or fixed height e.g. 70 cm or 110 cm. The height can be easily customize (don't forget to add the thickness of the top).
Recommended table top sizes: square 50 x 50  – 100 x 100 cm, rectangle 70-100 x 120 – 200 cm, round Ø 50 – 120 cm.
The size of the top plate is based on the size of the base plate.
MATERIALS
Base is powder-coated metal, you can choose a color from over 150 RAL colors (project sales) or Ecoshine finish.
For further information please contact sales@selka.fi
HIILI TR
HIILI HA
HIILI TP
HIILI TR TABLES